Church of St. Barbara, Bärnbach
1987-1988
8572 Bärnbach, Austria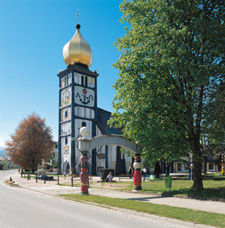 On the initiative of Father Friedrich Zeck, Hundertwasser accepted the task of redesigning the Church of St. Barbara in Bärnbach. His condition for doing so - that the surroundings of the church be included in the planning, was agreed to by the community thanks to the efforts of Mayor Konrad Bergmann.

With the design of twelve gates standing for all the great religions in the world, Hundertwasser made a gesture of ecumenism, tolerance and togetherness.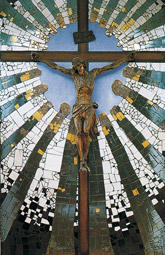 With his church design and in outstanding co-operation with the architect Manfred Fuchsbichler, Hundertwasser has created a remarkable landmark in the midst of an industrial area. For the design of the interior, artists from the region were given commissions.
Hundertwasser only designed the aureole behind the altar, the floor of the presbyterium and the spiral of the window behind the baptismal font. Hundertwasser assisted the congregation in raising the funds for the project.