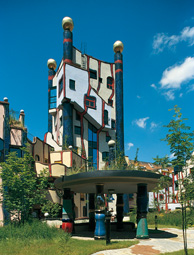 Living Beneath the Rain Tower, Plochingen
1991-1994
Marktstraße Süd, 73207 Plochingen am Neckar, Germany

From 1985 to 1990, the architects Heinz M. Springmann and Siegfried Kaltenbach housing construction of South Market Street in Plochingen. Their solution for the area located at the traffic intersection was a complex with an interior courtyard in which shops were also integrated.

At the request of the mayor and the building sponsor, Hundertwasser was invited to design the interior courtyard. Hundertwasser declared his willingness to do so on the condition that he designed the interior courtyard, including the interior facade, as a unit.
Hundertwasser transformed the rectilinear facade into an organic one, changing the form and arrangement of the windows and eliminating the grid system that was there before. With the tower, which he added to the complex, he gave it an urbanistic direction and the City of Plochingen a new landmark which can be seen from the motorway and the trains passing through. In addition, Hundertwasser designed two gates and entryways.

As with all buildings by Hundertwasser, the individual creativity of the craftsmen involved was particularly challenged; Hundertwasser complemented and corrected their solutions.