The Ship "Regentag"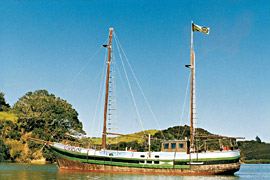 Acquired in 1967 in Palermo as a Sicilian-Tunisian transport ship by the name of "San Giuseppe T", it was sailed to Venice by Hundertwasser and captain Mimmo. Seven years of refurbishing with Captain Antonio in the shipyards of Palermo, Pellestrina, Portegrandi, Malcontenta, Portoferraio, La Goulette and Malta were Hundertwasser's first years of practical apprenticeship in architecture. There were similar problems and discussions as with his later architecture.
Hundertwasser lengthened the ship from 12 to 15 meters, rounded out the hull, set two masts, redesigned the bow and stern and gave the superstructure a creative, asymmetrical appearance.
For Hundertwasser the "Regentag" was a significant phase of his life. It was his home, his country, his headquarters. He lived and painted on it for ten years. The ship "Regentag" has turned out to be Hundertwasser's third name, after Friedensreich and "Dunkelbunt" (Colours Glowing in the Dark). Hundertwasser has been fascinated by ships since he was a child and dreamed up ships in his paintings: The "Singing Steamers", the "Mouthboats", the portholes, ships from the front, steamer's smokestacks etc. are recurring motifs in his pictures.
After trial voyages to Dalmatia, Sicily, Corsica, Elba, Malta, Tunis, Crete, Rhodes, Cyprus and Israel, the "Regentag" proved its seaworthiness by a voyage to the Antipodes, sailing in 18 month, under Captain Horst Wächter, with no problems from Venice via Malta, Gibraltar, the West Indies, Panama, the Galapagos and Tahiti to New Zealand. Hundertwasser was himself captain on board the Mediterranean, the Caribbean and on the final stretch Tahiti – Rorotonga – Kermadec Islands – Auckland – Bay of Islands. Since that time the "Regentag" has been in the care of Captain Andrew Fagan and of Richard Smart.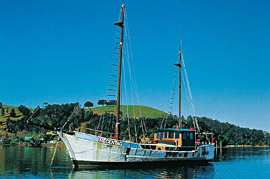 In 1999-2000 in Opua, New Zealand, Hundertwasser had the boat coated with ferro-cement, redid the wheel house and decorated the waterline with tiles. All work was done at the Ashby's Boat Yard, Opua, Bay of Islands. It was a necessary renovation after the ship sunk and was rescued in 1995, but also a long-time wish of Hundertwasser.
In 2004 the "Regentag" was transported per cargo to Europe and was a part of the exhibition "Hundertwasser. Art – Person – Nature" in the former Abbey (Minoritenkloster) in Tulln, Lower Austria. Since that time the "Regentag" has been lain at anchor there at the Danube.